Welcome to Qozqo Alpacas
REDUCTION SALE
A very successful breeding season in 2017 resulted in over 200 stunning coloured alpacas to choose from, with packages to suit your budget.
Female suri and huacaya starting from $1100 each inc GST with a free mating to any of our Qozqo males
Prize winning suri males from $1650.00 inc GST
Wethers for guards or pets $550 inc GST
---
Qozqo - Charles Ledger 2017
Qozqo Suris make their mark at the Charles Ledger show winning Best Fancy Suri, Best Black Suri and Best Grey Suri. Qozqo Colorama has now won four Best Fancy suri, 2 champions and a supreme champion in the 6 shows she has entered- well done Colorama. 2 firsts and a third in the grey huacaya classes made this a very successful show for Qozqo
---
Grey Huacaya- Best in Colour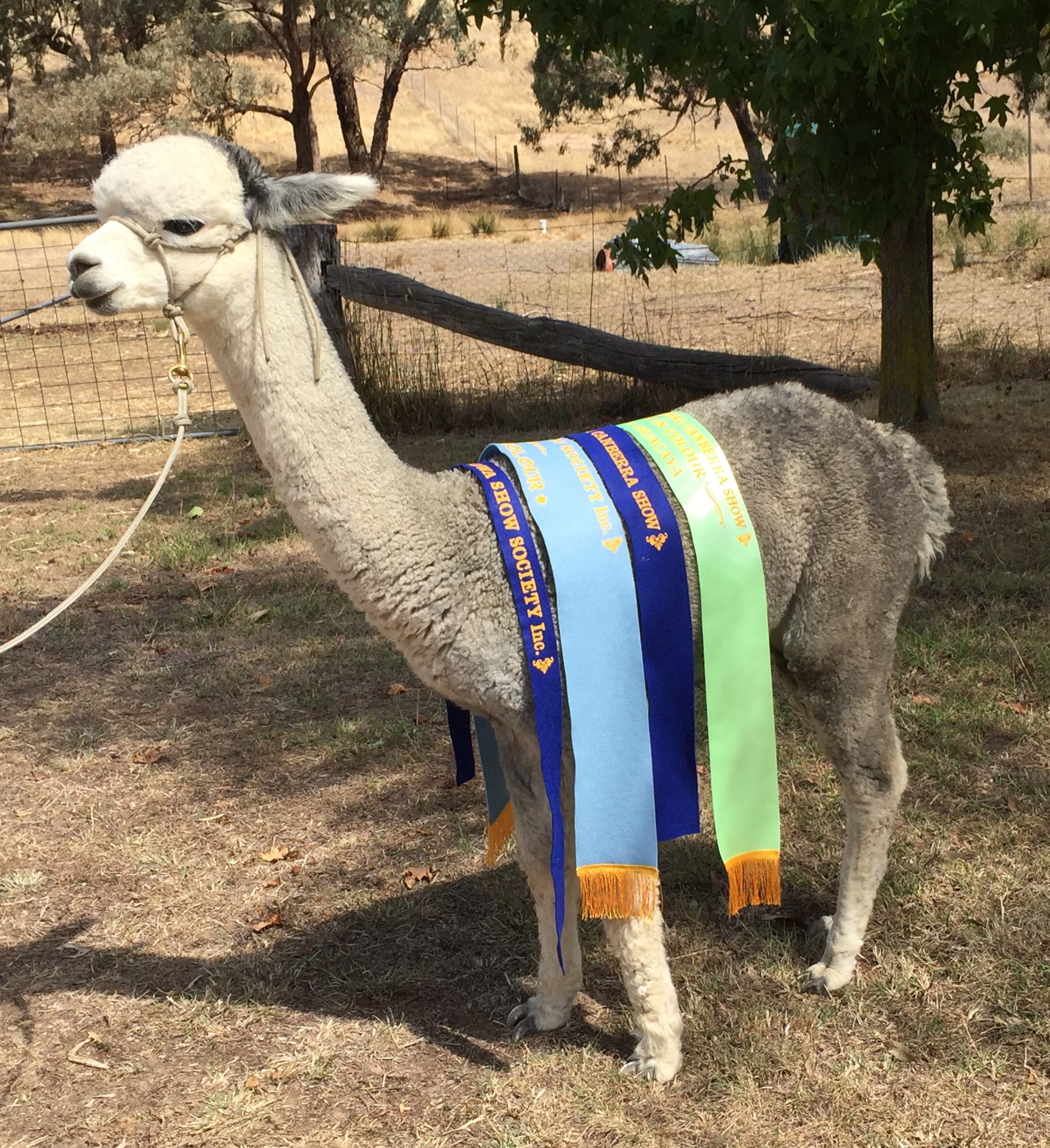 The stunning Qozqo Henri was awarded best in colour at the Canberra Royal 2017 and Boorowa 2017 with judges commenting on his evenness of colour, fineness density and handle.
---
BEST IN COLOUR at National Alpaca Show - Qozqo Marco does it again!
As well as winning first in his class of Grey Adult Male, Marco topped his award winning career by winning Best Grey Huacaya in the show. Well done Marco and congratulations to this stunning boy who has been sold to Shorty at Chaparral in S Australia. We miss him..
Qozqo continued its successes in the show ring with 6 firsts in total at the National, one second and a Highly commended- all in grey or roan suri and hucaya classes.
---
Carousel of Colour- GOULBURN – May 31-2 June
Wow- what a show and what a great result for Qozqo Alpacas…
The 12 beautiful animals that were entered brought home 21 ribbons including 2 Supreme Champions, 4 Champions, 2 Reserve champions, 8 firsts including  a first for AlpacapaPartners Bonapart's progeny, 4 seconds and 1 third.
Qozqo Jake by the imported ILR Captain Morgan's Blackbeard, won Supreme Grey Suri and Qozqo Colorama by Pacafino Scaramouche won Supreme Fancy Suri. Starina and Petula- both by Blackbeard, won Champions, and Jako- also by Blackbeard, was awarded a first in Jr Black Suri male. Great outcome for Blackbeard's progeny.  
Qozqo Marco by Bonaparte, continued to prove his great show record by winning Reserve Champion Grey Huacaya male.   
We loved the show- and loved the results that confirms Qozqo is heading in the right direction with its breeding policy of carefully selecting genetics for fineness, softness, colour, handle and density as well as conformation.   Judge's comments invariably focussed on fineness, handle and consistency.
Thank you to all those involved in making this such a great show.  
Looking forward to next year's Carousel of Colour.
---
46 Ribbons including 7 Broad Ribbons at 5 shows in 2012
Qoqzo Alpacas has been breeding award winning huacaya and suri alpacas in a stunning range of colours for 18 years by using carefully selected grey genetics.
For sale:
Breeding females, stud males, wethers- packages to suit your budget.
Matings to multi award winning stud males
Fine soft clean fleeces in all colours
Hand-made alpaca garments - www.eliteaustralianalpaca.com
Contact: Val Johanson Mob: 0412887857
Email:
---
Suri and huacaya in the most amazing grey, rich browns, fawns, black and cream.
Very fine- from 16micron- Ultra soft and clean with beautiful handle.
Much prized by hand spinners and nuno felters.
---
Qozqo is situated in the Southern Tablelands just south of the Australian Capital Territory.